Maintain Emotional Control During Big Tennis Matches
Maintaining composure and managing on-court emotions are necessary for optimal performance and enjoying the game of tennis.
Managing emotions doesn't mean you won't get angry after a bad line call or a double fault. Emotions are a part of any competitive experience.
Composure just means you able to compartmentalize your emotions and not allow negative emotion to spiral out of control detracting from your focus on the court.
You can probably identify some tennis matches where you experienced emotional meltdowns on the court…
A bad call here
An unforced error there
Some easy points you let slip away
You felt yourself losing control of your emotions. Frustration, anger, hopeless, and helplessness probably come to mind and those runaway emotions eventually caused you to completely meltdown on the court.
Runaway emotions take you out of your game by:
Increased muscle tension and making your strokes rigid.
Elevated heart rate and causing irregular breathing which make you tire more quickly.
Poor concentration and focus making the game appear like it has sped up, causing poor anticipation and interfering with playing the game instinctively.
Ruminating over mistakes, poor shots, and bad calls which take your mind off of your strategy for each point.
Feeling mounting levels of anxiety and fear of continued bad play.
Becoming increasingly negative and self-critical of yourself and your play.
Daria Gavrilova had an emotional meltdown during her Australian Open fourth-round defeat to Carla Suarez Navarro 6-0, 3-6, 2-6.
Gavrilova started the match in great form making only three unforced errors in the first set.
In the second set, she started to unravel as she made 15 unforced errors and 21 more in the third set.
Gavrilova's whole demeanor changed as emotions got the best of her evident by her verbal outbursts, racquet throwing, ball kicking and negative emotionally-charged on-court antics.
Gavrilova admitted that her inability to manage her highly-charged on-court emotions cost her the match.
GAVRILOVA: "[My behavior] wasn't great and I'm very disappointed with myself. I was being a little girl. I played very well in the first set. I guess I was starting to overcook it a little bit in the second and got very emotional. Yeah, was just going crazy."
Gavrilova stated the pressure of playing and advancing deep in the tournament for the first time in her career got to her.
GAVRILOVA: "I got emotionally fried in the second set. I was getting angry with myself, just showing way too much emotion. I've never played that deep in a grand slam, so maybe that's why."
GAVRILOVA: "It's not acceptable. I don't know why I did that. I was terrible. I mean, I played good. But the behavior, I've just got to learn from it."
Gavrilova is a talented, young player who can, no doubt, learn from this match and improve her ability to effectively managing her emotions in future matches… And so can you!
Tip to Maintain Emotional Control During Tennis Matches:
What emotions help you play optimally in the past? What emotions bring out your best play? What emotions cause you to play poorly?
Next, what triggers your negative emotions in past matches? How does it start? Keep in mind that your perception of the trigger causes your negative emotions.
For example, hitting an easy short ball into the net is not frustrating–only you can make it frustrating!
Now ask yourself, "How can I react better to the trigger next time so I can stay in control of my emotions in similar situations?"
This is your new reaction or coping response.
Finally, practice your new reaction to the triggers that upset you on the court by visualizing your new way to cope with them.
---
Related Tennis Psychology Articles
*Subscribe to The Tennis Psychology Podcast on iTunes
*Subscribe to The Tennis Psychology Podcast on Spotify
---
Improve Your Mental Game for Tennis
Tennis Confidence 2.0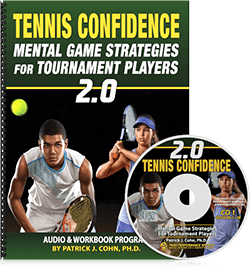 "Tennis Confidence: Mental Game Strategies for Tournament Players" is an audio and workbook program to help tennis players, coaches, and instructors improve the mental game of tennis is just 10 easy to learn sessions. Tennis Confidence: Mental Game Strategies for Tournament Players Audio and Workbook program is ideal for any junior, collegiate, and tour professional player. Tennis coaches and instructors would also be wise to teach the strategies "Tennis Confidence."
Tennis Confidence is a complete mental training program developed Peak Performance Sports. You learn the same strategies Dr. Cohn teaches his tennis players to help them improve mental toughness and consistency – from managing unrealistic expectations to coping with perfectionism.
Read more about Tennis Confidence Program>>