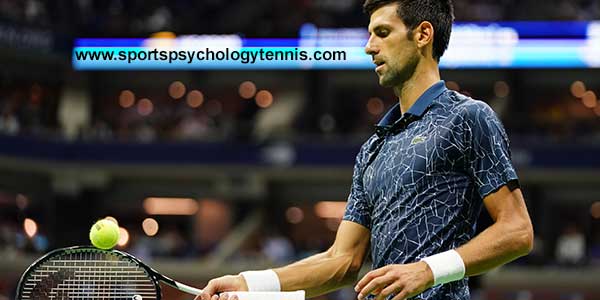 Learning to "Get After It"
How are you dealing with the limitations brought on by the coronavirus?
The coronavirus has presented athletes with a great deal of unknowns and uncertainty.
Instead of practicing daily, competing in tournaments and traveling, you are stuck at home, training alone, and are not even sure when you will compete again.
Even though the physical and mental demands of training and competing are rigorous, nothing outweighs the anguish of having the carpet yanked from underneath your feet and your sense of identity left in question.
This presents a challenge for tennis players when their identity is tied to tennis.
While hunkered down due to the coronavirus, one tennis player from our Mental Game of Tennis Survey expressed the difficulties she has been experiencing without tennis:
"Tennis is a big part of my life but now I feel lost without being able to play. I don't know what to do with myself while stuck at home. When I played tennis, I felt good about myself. Tennis is fun and something that I do well. I feel stuck."
I understand how you are feeling. Loss of a sport is difficult. Tennis is a significant part of your life and being an athlete is a large part of who you are.
One way for you to deal with this sense of loss is to take action.
Here's the reason: Athletes COMPETE… Athletes DO… Athletes ACT.
In other words, athletes are active. Without activity, you will feel empty, helpless and lost.
When you are not acting, performing or competing, you no longer feel like an athlete.
The solution is to take action or, in other words, get back in the mindset of being a tennis player. You can accomplish this task by recreating drills you performed in practice, visualizing sets, working on strength and conditioning, practicing serves in your backyard, etc.
The idea is to "Get After It!" Instead of wallowing in the misery of what is lost, take advantage of what you do have… a lot of extra time. Use your time to get after it… get after improving your mental game…
Get after your conditioning by pounding the pavement with long runs or a series of short sprints… Get after developing greater power in your serve… Just get after it.
Engaging in tennis activities increase positive emotions, help you regain that sense of being an athlete, give you a purpose due your extended stay at home, help you make constructive use of your time, improve weaker parts of your game and increase your level of mental toughness.
Action is what makes you a tennis player. You can't just think about tennis, you need to shift into gear. When you find a way to stay actively engaged in tennis activity, even though you are away from your team, you will reconnect with your identity as a tennis player.
Regaining your Tennis Mindset
Move into your tennis mindset by asking yourself each morning, "What will I do today to improve a skill, stay sharp, advance my mental game, gain physical strength or improve my conditioning so I'm ready to compete?"
As a tennis player, what will you do today to advance your tennis game? Come up with a plan and get after it.
Please remember that tennis is WHAT YOU DO, not WHO YOU ARE. You don't want to define who you are as a person based on tennis. You are way more than a tennis player!
---
Learn Proven Tennis Mental Game Strategies To Perform Your Best On The Court!
Are you (or your players) performing up to your ability in competition?
Do you bring your best and most confident game to matches?
I often hear players complain about the following problems when they play in matches…
"I get so tight or tense before matches that I can't think straight or have any rhythm in my game."
"I get so frustrated with hitting bad shots or with errors and it snowballs."
"I expect so much when I play that I unravel and lose confidence when the match does not go as planned."
"My confidence seems to disappear when I go from practice to matches and I don't know why."
Successful tennis players have learned how to perform with ultimate confidence in tournaments.
If you are ready to improve your mental toughness and perform with ultimate self-confidence in matches, Tennis Confidence: Mental Toughness For Tournament Players can help you do this!
Players: Learn how to take control of your confidence, focus your best, and win more close matches.
Parents: Help boost your junior tennis player's confidence for tournaments. Just load the program on your player's IPod!
Coaches: Boost your team's confidence using simple, proven mental strategies.
Instructors: Learn how to give your students the mental game advantage.
Use Tennis Confidence to help boost your mental toughness in tennis and discover powerful and proven mental game strategies that have helped professional athletes win!
Tennis Confidence: Mental Toughness For Tournament Players
---