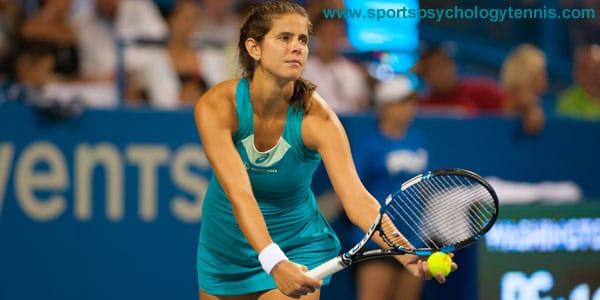 Keep A Process Focus Mindset During the Shutdown
What is the one thing that generates the most anxiety for you in tennis?
Is it the fear of embarrassing yourself on the court, losing points during critical moments in the match, losing against a lower ranked opponent or choking during important matches?
The one common thread that runs through these anxiety-provoking scenarios is the focus on outcomes.
Focusing on outcomes is the greatest contributor to anxiety for tennis players.
Recently, WTA World No. 1 Ashleigh Barty discussed the importance of not focusing on outcomes.
BARTY: "It's about maintaining and also not worrying about it, not stressing about it, not focusing on it. It's something out of our control."
In Barty's comments, she was actually talking about the coronavirus, but focusing on outcomes, whether it is a virus or a tennis match, the result is the same… ANXIETY.
You probably have experienced stress caused by the coronavirus. Everything is up in the air.
Will you have opportunities to play any tournaments in 2020?
How will you be able to practice if social distancing is still the norm?
Will your parents, family or friends be allowed to watch you play?
Will you need to wear a face covering while participating in tennis activities?
What will happen if high school or college play is restricted or cancelled?
When you focus on outcomes, the anxiety can become overwhelming.
The same is true in tennis… focusing on outcomes equals increased worry and stress:
If I lose, will my coach lose confidence in me?
What if I get knocked out early in this tournament?
If I lose this point, I will definitely lose the match.
I'm going to get crushed in qualifying?
Clearly you can see how focusing on outcomes, whether it's a tennis match or a situation outside of tennis such as the coronavirus pandemic, the result is the same.
When you focus on outcomes, you are focused on uncertain results in the future. It's that uncertainty that causes increased anxiety.
Barty provided sound advice when asked if she had any mental tricks to help her in these times of adversity.
BARTY: "I think it is day-by-day. I think that's the only way to approach it, is to just do the best you can in any given day and try and better yourself, upskill yourself in some way, in some capacity, every single day. Whether that's with a training session, fitness session at home, or some reading or some studying or whatever it may be, creating ways to stimulate your brain, stimulate your body and keep it interesting."
If you notice, Barty's approach is to focus on the present moment or what she can do TODAY given her set of circumstances.
You can apply Barty's principles to tennis matches as well. For instance, if you are down one set, you can ask yourself, "What can I do in this moment to get momentum?" "What is the best strategy to play this point?" or "How can I apply my strengths to play this point?"
Focusing on what you can do in the moment will help you feel in control and empowered without feel the anxieties.
Taking Control of the Moment
Focus on today and what you can do to become a stronger tennis player when you can return to competition. Set a plan for your improvement based on your current situation for practice facilities.
When you start to think ahead about the what ifs, recognize you are focusing on outcomes. Refocus on your task you want to complete today. Write out a daily plan and check off one task at a time.
---
Related Tennis Psychology Articles:
*Subscribe to The Tennis Psychology Podcast on iTunes
*Subscribe to The Tennis Psychology Podcast on Spotify
---
Improve Your Mental Game for Tennis
Tennis Confidence 2.0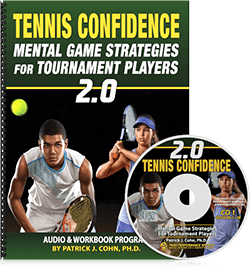 "Tennis Confidence: Mental Game Strategies for Tournament Players" is Dr. Cohn's program to help tennis players, coaches, and instructors improve the mental game of tennis is just 8 easy to learn sessions. Tennis Confidence: Mental Game Strategies for Tournament Players Audio and Workbook program is ideal for any junior, collegiate, and tour professional player. Tennis coaches and instructors would also be wise to teach the strategies in "Tennis Confidence 2.0."
Tennis Confidence is a complete mental training program developed Dr. Cohn. You learn the same strategies Dr. Cohn teaches his personal students to help them improve mental toughness and consistency – from managing unrealistic expectations to coping with perfectionism. 
Read more about Tennis Confidence Program>>