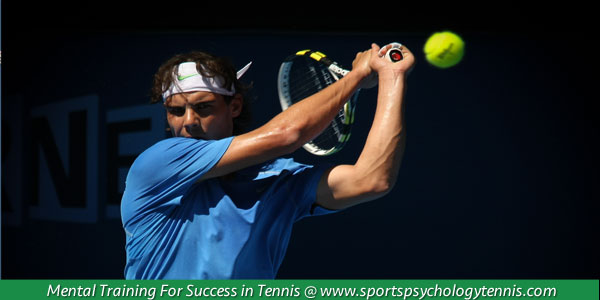 Maintaining Confidence in Matches
Are you able to find a way to win a tennis match even when you are not "on top" of your game?
Are you able to maintain your confidence and composure when not playing your best and keep fighting for a victory?
A lot of tennis players feel upset or frustrated when not playing their best tennis.
Has this ever happened to you in a match? You just don't have your "A" game and your confidence gradually erodes…
You find it difficult to fight for points or play aggressively…
Your mindset becomes negative, "Why go for it, I'm not playing well."
Part of you gives in slightly and you no longer look for opportunities to extend points or go for wide balls.
I teach tennis players that they can stay confident when not playing their best tennis…
You can still pull out victory even though you have missed shots.
Just because you played a bad set doesn't dictate that you will play poorly for the entire match.
Confidence is maintaining belief in your skills despite the fact that you do not have your A game.
Each set is a new set… Each point is a new point with opportunities to hit a winner and mount a comeback.
Real confidence is stable and enduring. It does not disappear after one set or one match.
Also, if you play hard and still lose the match, you begin to develop the confidence in your ability to fight for points when similar situations arise.
Rafael Nadal, ranked No. 1 in the world, had ups and downs throughout his 2014 French Open finals match as he faced rival Novak Djokovic.
Less than a month ago, Djokovic had beaten Nadal at the 2014 Rome Masters (4-6, 6-3, 6-3).
Despite the loss, Nadal kept believing in his abilities and found a way to beat Djokovic for the French Open title.
Nadal's French Open victory was his fifth consecutive French Open title bringing his title total to nine with a 66-1 career record at Roland Garros.
Many of Nadal's victories were the result of fighting for points during low times of matches.
"It's obvious that we [Novak, Federer and me] are not playing at our best every day, but when we are not playing at our best, we were able to keep believing in the victory, keep fighting for the victory, and keep trying different ways to win the match," Nadal said.
Nadal points to his confidence as the key to his success during tough moments of matches, including the 2014 French Open:
"When there were problems cropping, I managed to find the solutions when the moments were very difficult with a number of shots which were quite tricky from the tennis point of view. I succeeded. I managed to win the match and the tournament."
Try these tips to help you fight through matches when you are not playing with your A game:
Focus on solutions instead of problems. Reliving bad points or shots does not help you focus on solutions. Go to plan B or C if you have to. Too many players stick with a losing strategy.
Understand that a "fighting" mentality is a learned mindset. If you have not been able to fight when down in matches that does not mean you can't learn how to fight hard.
Successful tennis players have learned how to perform with ultimate confidence in tournaments. We've developed Tennis Confidence: Mental Toughness For Tournament Players to help you do this.
---
Learn Proven Mental Game Strategies To Perform Your Best On The Court!
Are you (or your players) performing up to your ability in competition?
Do you bring your best and most confident game to matches?
Successful tennis players have learned how to perform with ultimate confidence in tournaments.
If you are ready to improve your mental toughness and perform with ultimate self-confidence in matches, Tennis Confidence: Mental Toughness For Tournament Players can help you do this!
Use Tennis Confidence to help boost your mental toughness in tennis and discover powerful and proven mental game strategies that have helped professional athletes win!
Tennis Confidence: Mental Toughness For Tournament Players
What are mental game customers saying?
"I want to let you know that your Tennis Confidence CDs have been extremely helpful to me. I listen to them in the car, and the program is helping me overcome a lifetime of tournament performance anxiety. Thank you!"
~Wing Wu
---
Download Our Free Tennis Psychology Report!

Discover if you are making one or more of these "costly" unforced mental game errors during matches!
Download our free Tennis Psychology Report:
Six Unforced 'Mental Game' Errors Tennis Players Make Between Points
You'll discover:
How your mind can be your best or worst asset on the court.
If you are using your mind effectively between points.
One strategy that can help you let of go the last point.
The top mental game skills you need to master to boost your confidence and performance between points.
Click here to download your FREE report today: Six Unforced 'Mental Game' Errors Tennis Players Make Between Points
What are tennis players saying?
"Dr. Cohn, one of my goals is to become a world-class-coach, There are a few coaches from the US who inspired me the most-John Wooden, Son Shula, and Pat Riley. After working with you, I now also list your name among the most influential coaches in my field!"
~Franz
---
Boost Your Self-Confidence And Focus With Expert Mental Game Coaching!
Master mental game coach Dr. Patrick Cohn can help you overcome your mental game issues with personal coaching.
You can work with Dr. Patrick Cohn himself in Orlando, Florida or via Skype, FaceTime, or telephone. Call us toll free at 888-742-7225 or contact us for more information about the different coaching programs we offer!
What are our mental coaching students saying?
"We are amazed at how much 'The Confident Athlete' program has helped my niece play her best tennis during matches. She literally made it to the farthest round of a tournament (semifinals) after finishing the CDs and workbook. We are going to do all 3 in the series."
~Jason Bourguignon, Uncle