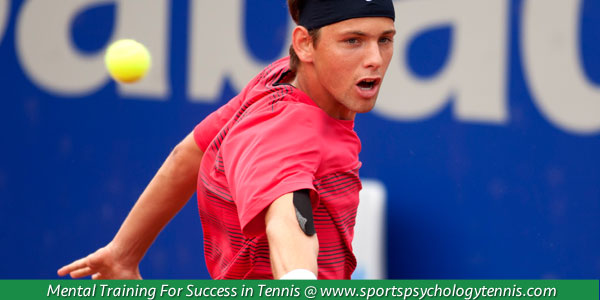 Improving Your Mental Game to Overcome Slumps
Many tennis players experience slumps. Slumps occur when you perform poorly for a period of time. Slumps may be short-term, but sometimes they can happen for weeks or maybe even months at a time.
A poor performance at a single tournament wouldn't be considered a slump, but losing in early rounds for consecutive tournaments would qualify as a slump.
When you're in a slump, it can be difficult to bounce back mentally. Your confidence takes a hit. You question your ability, mental toughness or ability to compete at a high level.
Your focus turns to past statistics, results and poor performances, leaving you frustrated and angry.
Doubt and negative thinking creep in causing the slump to continue.
Even professional players experience slumps sometimes. Ivan Ljubicic experienced his own kind of slump. He lost five consecutive tournaments in the first round last year. Ljubicic broke through his slump at the BNP Paribas Open last week. He didn't just make it past the first round, he won the tournament! He outlasted American Andy Roddick 7-6 (3), 7-6 (5) to capture the title.
"I felt really creative out there. I played all different shots: lobs, drop shots, volleys, winners, slices. I just felt I could hit the ball anywhere. I was playing the shots that were coming to my mind," said Ljubicic.
When not performing well during a slump, you might play more tentatively, unsure of your shot selection or placement. When you're unsure about shot selection or placement, you tighten up leaving a poorly executed shot. To play well, you have to be decisive and use variety in your game, like Ljubicic. Stay committed to your strategy and the results will come.
"It was really a mind game. When you have two big serves, not a lot of rallies happening, it's a very mental match. I was fortunate enough to be more relaxed by the end of the match," said Ljubicic about the final match with no service breaks.
Your Tennis Psychology Tip For Today
Focus on improving your game each day instead of match results.
Assess what you can improve on for the next match and set a plan with your coach to make gains.
You'll want to structure practice to improve specific parts of your game. Continue working on your tennis, your mental game and eventually you will break out of a slump.
---
Related Tennis Psychology Articles
*Subscribe to The Tennis Psychology Podcast on iTunes
*Subscribe to The Tennis Psychology Podcast on Spotify
---
Improve Your Mental Game for Tennis
Tennis Confidence 2.0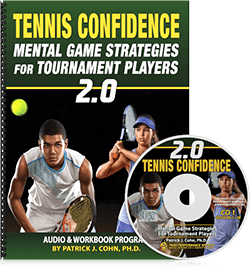 "Tennis Confidence: Mental Game Strategies for Tournament Players" is an audio and workbook program to help tennis players, coaches, and instructors improve the mental game of tennis is just 10 easy to learn sessions. Tennis Confidence: Mental Game Strategies for Tournament Players Audio and Workbook program is ideal for any junior, collegiate, and tour professional player. Tennis coaches and instructors would also be wise to teach the strategies "Tennis Confidence."
Tennis Confidence is a complete mental training program developed Peak Performance Sports. You learn the same strategies Dr. Cohn teaches his tennis players to help them improve mental toughness and consistency – from managing unrealistic expectations to coping with perfectionism.
Read more about Tennis Confidence Program>>