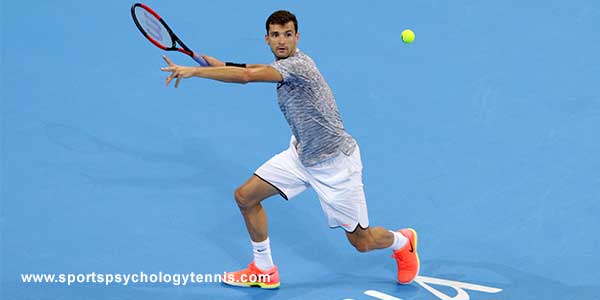 How to Focus on One Point at a Time
What is meant by "immersing yourself in the moment" when playing a match? Immersing yourself in the moment simply means being present.
The word "immerse" is defined as being engrossed. Have you ever been engrossed in reading a book where you were unaware of anything around you?
Time seemed to slip by without you noticing and without conscious thought.
The same is true of immersing yourself in the moment when playing tennis. You can sense what is happening around you but are not thinking your way through the match.
A lost point is only a lost point, free of judgment or analysis. You are playing without noticing distractions.
When immersed in the moment, you are playing your best tennis. Immersing in the moment is a mental skill. Mental skills don't just happen. Mental skills require training, practice, and repetition.
Where should you work on mental skills?
The same place you work on your serve or backhand… in practice. Practice is the optimal time and place to work on physical and mental skill development.
The Process of Immersing Yourself in the Game:
Learn how to build the mental skill of playing in the NOW off the court.
Work on immersing yourself in the game during practice sessions. Replicating match conditions helps you develop the skill under a bit of pressure.
Apply this mental skill during matches. After each match, evaluate your progress and tweak strategies as necessary.
Immersing yourself in your game gives you a significant edge over your opponents. Under pressure, you will be able to maintain your composure. Mistakes will have less of an impact on your game.
You will have a laser focus and unshakeable confidence throughout the match.
At the 2022 National Bank Open, Hubert Hurkacz defeated Nick Kyrgios 7-6, 6-7, 6-1. When battling for points, Hurkacz was immersed in just playing aggressively.
Between points, Hurkacz used a cue phrase, "Serve good, stay aggressive," to remind him of his match strategy and immediately re-immersed himself in the moment.
HUBERT HURKACZ: "I was confident in my serve. I was just trying to find an opportunity, just go for it when I have a chance. That was it, what I was thinking during the break. I was just trying to serve good and stay aggressive."
A cue phrase reminds you what to focus on for the next point. In addition, a cue phrase can remind you to shut off conscious thought, immerse yourself in the moment, and play on autopilot.
When you want to develop a powerful serve, you ask your coach for advice or work with a coach to build your mechanics.
With learning mental skills, the best resource is an expert in mental skills training. A Mental Performance Coach can help you strengthen your mental game and reach your potential.
By working with an expert, you can learn the ins and outs of immersing yourself in the moment and take your game to the next level. Contact us about mental training programs for you or your athletes.
---
Related Tennis Psychology Articles
*Subscribe to The Tennis Psychology Podcast on iTunes
*Subscribe to The Tennis Psychology Podcast on Spotify
---
My program is ideal for athletes who want great composure or any coach or parent who wants to teach athletes to harness the power of maximum composure.
Here's a peek at some of what you'll learn in The Composed Athlete:
How to model your ideal composed athlete
How to identify the specific mental breakdowns that impede your composure
How to create powerful feelings of composure in just 15 minutes a day
Break through fears and ineffective beliefs that keep you stuck in a comfort zone
How to become a success-driven instead of a fear-driven athlete
How to get beyond self-intimidate and awaken the champion within
Specific mental strategies for letting go of errors and frustration about mistakes
A pregame routine to get yourself into a composed mindset from the get-go.
---