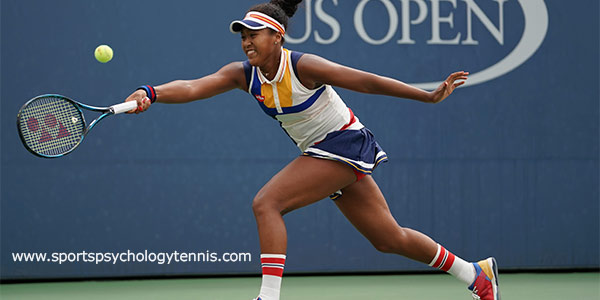 How to Cope with a Loss
After losing to a lower-ranked opponent, do you quickly move on, or does the loss stick with you for a while?
Losing any match is disappointing. Nevertheless, you can at least make sense of the loss when a highly-ranked player beats you.
Conversely, when a lower-ranked opponent beats you, especially early in a tournament, that loss hurt confidence for some players.
In our Mental Game of Tennis Survey, a collegiate player left the following comment:
"When I get knocked out early in a tournament, I get so angry with myself. I just can't get over those losses."
Under performing early in a tournament would aggravate most players.
However, the difference between good and great players lies in their ability to move forward.
After an early round loss, it is normal to experience doubts and frustration, "How could I have possibly lost that match? This is embarrassing. If I can't beat lower-ranked players, how will I be able to beat high-ranked opponents."
As this thought process unfolds, you feel discouraged and irritated. Your mind gets stuck thinking about past losses.
Then, those losses affect the next tournament, "What if I get knocked out in the first round again?"
Fearing an early-round loss causes you to play cautiously. Worrying about losing to lower ranked players can be a huge source of pressure for athletes.
However, when you play not to lose, you very often lose. The issue is not a result of a lack of ability or talent. Instead, the problem is that you lost your focus.
Moving forward requires you to focus on the present, "Okay, I lost early in the last tournament, but this is a brand new tournament. Stay focused on this match. This is the only match that matters."
Focusing on the present frees you of past mistakes and losses. A present-moment focus keeps you engaged in the current match, where you can give your full attention, focus, and effort.
At the 2022 Western & Southern Open, Borna Coric upset Rafael Nadal, (7-6), (11-9), (4-6), (6-3), in the Round of 32. Afterward, Nadal commented that he was turning his attention to the next tournament, the US Open.
In his post-match press conference, Nadal quickly noted, "You lose, you move forward. I know the way."
Nadal understands losses will happen, even in early rounds.
"I need to move forward and just start to think about the energy that the crowd gives me in New York," he said.
Not only has Nadal lost early in matches in the past, but he has also bounced back afterward. This thought process preserves Nadal's confidence heading into the next tournament.
The way to bounce back after any loss is to focus on what is next, not what has happened.
Moving Past a Loss:
Apply these tips to bounce back after a loss:
Move On. Let go of the past
Think about what to improve in the next week of practice.
Commit. Start preparing for the next tournament.
---
Related Tennis Psychology Articles
*Subscribe to The Tennis Psychology Podcast on iTunes
*Subscribe to The Tennis Psychology Podcast on Spotify
---
My program is ideal for athletes who want great composure or any coach or parent who wants to teach athletes to harness the power of maximum composure.
Here's a peek at some of what you'll learn in The Composed Athlete:
How to model your ideal composed athlete
How to identify the specific mental breakdowns that impede your composure
How to create powerful feelings of composure in just 15 minutes a day
Break through fears and ineffective beliefs that keep you stuck in a comfort zone
How to become a success-driven instead of a fear-driven athlete
How to get beyond self-intimidate and awaken the champion within
Specific mental strategies for letting go of errors and frustration about mistakes
A pregame routine to get yourself into a composed mindset from the get-go.
---