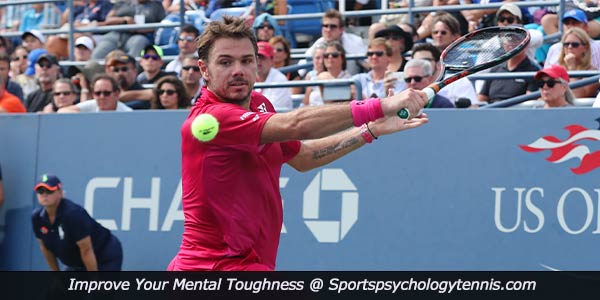 A Growth Mindset Will Take Your Game to the Next Level
How do you fare against top-ranked tennis players?
Does playing top-ranked players motivate you or intimidate you?
Playing top competition does not bring out the best in all tennis players. Many tennis players feel intimidated by top competition and under-perform according to their own standards.
In our Mental Game of Tennis Needs Survey, a tennis player requested help with playing top competition and playing in big tournaments:
"How can I perform at the highest level in the biggest situations and matches on tour? How can I keep the right perspective on things that I am doing instead of focusing on my opponent?"
The first question you need to ask yourself is, "What is my mindset heading into matches against top-ranked competition?"
Playing against tough competition or in big tournaments can be daunting. You might have a negative expectation before the match even starts. You obsess over thoughts such as, "All the other players are so much better than me," "I hope I won't get embarrassed" or "There is no way I can compete with those players."
This mindset is based on the fear of failing. When you have a fearful mindset, you are anxious, tight and scattered with your focus. Have you ever played your best tennis under these conditions?
When you expect to not play well or expect to lose, you most likely will under-perform.
In an interview, USTA player Roberto Bautista was asked how it feels to play in an era dominated by the "Big Four" (Novak Djokovic, Roger Federer, Andy Murray and Rafael Nadal).
Bautista responded by saying he views tough competition as a means to push him to work hard and raise his game to the next level.
BAUTISTA: "We are living the best tennis era. (Djokovic, Federer, Murray and Nadal) win the majority of the tournaments because they never have enough. They are very competitive and improve each other when they play against. But obviously they push us to improve too because they force us to be at a higher level."
Bautista is focused on raising his game to the next level, not merely winning. This "improvement" focus is referred to as a "growth" mindset. When you have a growth mindset, you view top-ranked competition as an opportunity to take your game to the next level. You see matches as challenges instead of predetermined losses.
When you have a growth mindset, you evaluate your play objectively and look for ways to improve your game. Armed with a growth mindset, you can play to your potential.
How to Play with a Growth Mindset against Top-Ranked Players:
A growth mindset includes:
Being prepared as much as possible for each match.
Heading into matches with no expectations, such as "I will definitely lose" or "I'm going to get embarrassed."
Working hard to win each point.
Reserving evaluations for after the match and identifying ways to improve your game.
A growth mindset will help you maintain a positive perspective and will help you perform your best against top-ranked opponents.
---
Related Tennis Psychology Articles:
*Subscribe to The Tennis Psychology Podcast on iTunes
*Subscribe to The Tennis Psychology Podcast on Spotify
---
Improve Your Mental Game for Tennis
Tennis Confidence 2.0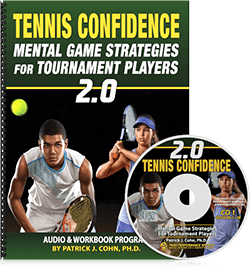 "Tennis Confidence: Mental Game Strategies for Tournament Players" is Dr. Cohn's program to help tennis players, coaches, and instructors improve the mental game of tennis is just 8 easy to learn sessions. Tennis Confidence: Mental Game Strategies for Tournament Players Audio and Workbook program is ideal for any junior, collegiate, and tour professional player. Tennis coaches and instructors would also be wise to teach the strategies in "Tennis Confidence 2.0."
Tennis Confidence is a complete mental training program developed Dr. Cohn. You learn the same strategies Dr. Cohn teaches his personal students to help them improve mental toughness and consistency – from managing unrealistic expectations to coping with perfectionism.
Read more about Tennis Confidence Program>>