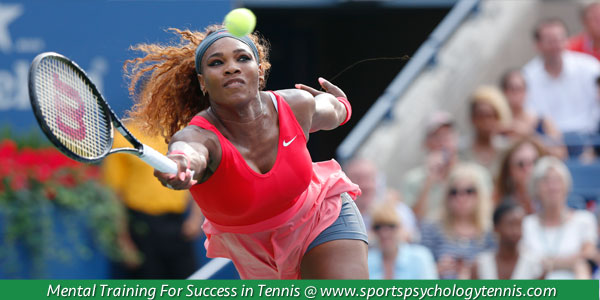 Improving Your Tennis Mental Toughness
Have you ever had a poor tennis match but couldn't figure out why?
Did your poor performances continue over the course of several matches?
Can you recall your thought process at the time of your string of poor performances?
Maybe you began to question your abilities or felt you lost your mental edge…
Perhaps you blamed the officiating or were confounded as to the reasons for your poor play.
If you can't figure out specific causes for your poor play, you will not be able to turn your performance around and your confidence will be negatively affected.
The same is true if you do not take responsibility for your play… your string of bad matches will continue.
In times of poor play, you need to calmly and objectively evaluate your game (physically, mentally, technically and tactically) in order to determine the steps required to improve your play in matches.
Serena Williams entered Wimbledon ranked No. in the world and seeded first in the tournament.
With her 17 Grand Slam titles, Serena is amongst the most successful female tennis players in the history of the sport.
Prior to the 2014 Wimbledon event, Williams has been ousted before the quarterfinals at the two Grand Slam events (2014 Australian Open & 2014 French Open).
Williams continued her string of poor play at Majors in 2014 when she was eliminated in the third round at Wimbledon by 25th-seeded Alize Cornet 1-6, 6-3, 6-4.
Williams had difficulty executing her backhand (12 unforced backhand errors) and her serve (seven double-faults and five breaks) even though Cornet had never been past the third round at Wimbledon.
Williams appeared flustered after her early 2014 Wimbledon exit and unwilling to take personal responsibility for her performance on the court.
WILLIAMS: "If I'm not playing a great, great match, these girls, when they play me, they play as if they're on the ATP Tour, and then they play other girls completely different. It's never easy being in my shoes."
Williams's frustration was evident as she seemed unable to identify the causes of her performance issues…
WILLIAMS: "I don't really know what I did wrong. Usually I do. Usually I know I did this, this, and that."
Try these tips to improve your game following a string of poor matches…
Avoid the "blame game." Take responsibility for your play and commit to regaining your form no matter what it takes.
Objectively evaluate your matches. Give yourself credit for the things you did well (this will help you maintain your confidence). Identify 1-2 areas that need improvement and create a plan of attack to rectify these areas during training sessions.
Successful tennis players have learned how to perform with ultimate confidence in tournaments. We've developed Tennis Confidence: Mental Toughness For Tournament Players to help you do this.
---
Related Tennis Psychology Articles
*Subscribe to The Tennis Psychology Podcast on iTunes
*Subscribe to The Tennis Psychology Podcast on Spotify
---
Improve Your Mental Game for Tennis
Tennis Confidence 2.0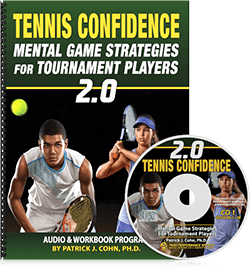 "Tennis Confidence: Mental Game Strategies for Tournament Players" is an audio and workbook program to help tennis players, coaches, and instructors improve the mental game of tennis is just 10 easy to learn sessions. Tennis Confidence: Mental Game Strategies for Tournament Players Audio and Workbook program is ideal for any junior, collegiate, and tour professional player. Tennis coaches and instructors would also be wise to teach the strategies "Tennis Confidence."
Tennis Confidence is a complete mental training program developed Peak Performance Sports. You learn the same strategies Dr. Cohn teaches his tennis players to help them improve mental toughness and consistency – from managing unrealistic expectations to coping with perfectionism.
Read more about Tennis Confidence Program>>