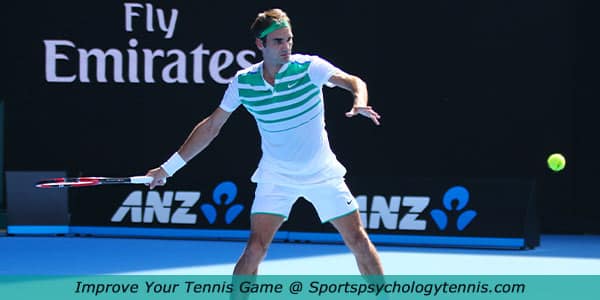 Grind it Out When You Don't Have Your 'A' Game
What is your mindset when you realize early in a match that you just don't have your 'A' game or you are not playing your best tennis?
Without your 'A' game, are you still able to compete for every point, or do you experience a mental letdown that further hurts your performance?
Many times, a tennis player who is playing poorly will grade their play early in a match and conclude that a loss is a given.
Playing without their 'A' game was the area of concern by a player who reached out in our Mental Game of Tennis Survey:
"How can I stay focused when I'm not on top of my game and get down early in matches? When I get behind early in matches or feel I'm not playing well, I tend to give up. Is there any way to keep my focus?"
Let's get right into the issue… Applying tactics around your strengths gives you confidence heading into a match. When you struggle early in a match, it is easy to think that you will not do well because you are not on top of your game.
When you can't seem to get to balls, especially when chasing down balls and making difficult shots is your strength, it can be demoralizing.
You feel sluggish and late. Every time you miss a shot you would have executed if you were on top of your game, you become more frustrated and you can feel your confidence slip away.
Is it really true that you can't win while feeling a little sluggish? Is there no way you can energize your game?
Is it possible that you can change your strategy to keep yourself in the game mentally and continue to fight to win points?
Is it absolutely true that you cannot win with your 'B' game?
Making early negative conclusions or predicting the outcome of your match tears your focus away from playing the current point to the best of your abilities.
At the 2020 J&T Banka Ostrava Open, American qualifier Coco Gauff admittedly didn't have her 'A' game in her first round match up against Katerina Siniakova.
Despite trailing by a break three times in the first set, Gauff fought through the match and was still able to pull off a 7-5, 6-4 victory.
Gauff was able to keep her focus and found a way to win, even though she wasn't fully on top of her game.
GAUFF: "It wasn't my best and it wasn't my worst. I would say it was more like, around lower-middle. I didn't start off the best, I mean I got broken at love in the first game. But I just kept fighting and I stayed in there. I didn't get to hit on Center Court before my match, so [at the beginning] I was just getting used to it."
Keeping your head in the game requires a focused MIND. Fighting for each point requires a never-say-quit MINDSET.
Finding a way to compete without your 'A' game requires a steadfast and determined MINDSET.
When you have the right mindset, you are always in the match.
How to Successfully Compete with Your 'B' Game:
Your mind is your strongest asset after all the training is done prior to a match. Expecting you to have to perform your best to win is not a winning mindset.
When you enter a match be prepared mentally with a game plan for your A-game and a game plan for your B-game.
Being successful with your 'B' game means you have to grind out the match even when missing, making uncharacteristic mistakes or dropping your service.
---
Related Tennis Psychology Articles:
*Subscribe to The Tennis Psychology Podcast on iTunes
*Subscribe to The Tennis Psychology Podcast on Spotify
---
Improve Your Mental Game for Tennis
Tennis Confidence 2.0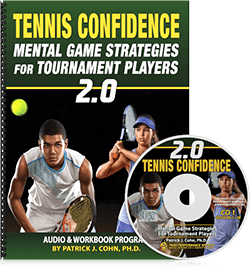 "Tennis Confidence: Mental Game Strategies for Tournament Players" is Dr. Cohn's program to help tennis players, coaches, and instructors improve the mental game of tennis is just 8 easy to learn sessions. Tennis Confidence: Mental Game Strategies for Tournament Players Audio and Workbook program is ideal for any junior, collegiate, and tour professional player. Tennis coaches and instructors would also be wise to teach the strategies in "Tennis Confidence 2.0."
Tennis Confidence is a complete mental training program developed Dr. Cohn. You learn the same strategies Dr. Cohn teaches his personal students to help them improve mental toughness and consistency – from managing unrealistic expectations to coping with perfectionism. 
Read more about Tennis Confidence Program>>