Living up to Others Expectations
Why do some very talented athletes never seem to live up to their potential?
Do you feel that you have more to achieve in tennis but are consistently under-performing?
Many talented, skillful and physically gifted tennis players fail to reach the pinnacle of their sport.
These talented tennis players often play poorly against lower ranked opponents and fall apart under the weight of pressure in big matches.
Does this sound familiar?
Your coaches tell you how talented you are over and over but you can never seem to get over the hump…
You crush it in practice matches, but can't seem to replicate that sort of dominant performance in matches…
This inability to perform at your potential leaves you frustrated…
You might even lose your motivation and no longer get excited playing in tennis events… You label yourself as a "practice player" and lose your competitiveness.
How is it possible that highly talented tennis players never reach their potential in match play?
Your success depends on more than physical talent and ability. Success in tennis requires mental skills. Mental skills take your physical talent and magnify your play on the court.
Mental skills, such as focus, confidence, emotional control, goal setting and mental toughness get you over the hump and vault you to the next level.
But mental skills require direction and work.
If you are not being coached in the development of mental skills and are not working to improve your mental skills with a knowledgeable professional on a daily basis, you will remain that tennis player who consistently falls short of achieving your potential.
Take for example highly touted and talented Nick Kyrgios. Kyrgios is gaining a reputation of being the player blessed with all the physical gifts who can't seem to live up to the hype.
Kyrgios will play well one match and seem like he is well on his way to becoming a tennis star, then inexplicably self-implode during his very next match.
Kyrgios' inability to manage his emotions on the court has held him back from consistently performing at a high level.
Kyrgios was fined a total of $16,500 for violations of the ATP code of conduct after he tanked his second round clash against Mischa Zverev at the 2016 Shanghai Masters.
Jeff Bond, a former Australian Institute of Sport psychologist of 22 years, believes Kyrgios will continue to underperform because of an unwillingness to seek help on the mental side of his game.
BOND: "People who are high on self confidence [cockiness], you know the 'me, me, me' thing are unlikely to seek support from any kind of professional unless they've got they're backside in a sling, unless they've got their back against the wall."
Bond went as far to suggest that some tennis players on the circuit will not admit they need help because they see it as a sign of weakness.
The thing to remember is that if you don't commit to improving your mental game, you will often be ruled by the mental circumstances that you face in competition.
Tips for taking your talent to matches:
What mental skills do you lack that affect your performance in matches? Talk to your coach and get your coach's assessment of your mental game.
For example, do you tighten up and not trust your strokes? Do you fear failure? Do you try to perform perfectly? Do you have fragile confidence?
Ask yourself, "How can I improve my mental game in matches?"
Reach out to a mental game coach or sport psychologist just to see what they can offer you in terms of mental skills coaching.
From that point, you can make a more informed decision on how to improve your mental game.
---
Related Tennis Psychology Articles:
*Subscribe to The Tennis Psychology Podcast on iTunes
*Subscribe to The Tennis Psychology Podcast on Spotify
---
Improve Your Mental Game for Tennis
Tennis Confidence 2.0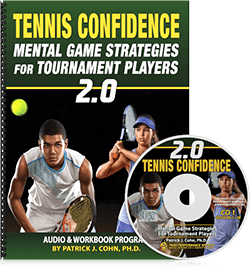 "Tennis Confidence: Mental Game Strategies for Tournament Players" is Dr. Cohn's program to help tennis players, coaches, and instructors improve the mental game of tennis is just 8 easy to learn sessions. Tennis Confidence: Mental Game Strategies for Tournament Players Audio and Workbook program is ideal for any junior, collegiate, and tour professional player. Tennis coaches and instructors would also be wise to teach the strategies in "Tennis Confidence 2.0."
Tennis Confidence is a complete mental training program developed Dr. Cohn. You learn the same strategies Dr. Cohn teaches his personal students to help them improve mental toughness and consistency – from managing unrealistic expectations to coping with perfectionism. 
Read more about Tennis Confidence Program>>