Sports Psychologists to Improve Mental Toughness
Mental toughness is considered by many tennis players as the single most important asset for peak performance.
Mental toughness helps tennis players in all aspects of their game. Tough competitive circumstances call for mentally tough athletes to navigate their way to success.
So what are WTA players doing to improve their mental toughness?
Some players have sought out mental coaching from sport psychologists to help them achieve more in tennis.
World No. 8 Dominika Cibulkova, who has risen 58 spots in the ranking over the last several months, credits working with a sport psychologist for her ascension in the rankings.
Cibulkova knew her technical game was sound but it was her negativity that prevented her from playing her best.
CIBULKOVA: "Teaming up with a mental coach helped a big part of my game. I was always a good player, I had a good forehand, backhand, and we're always working on my serve but I could get very negative during the matches and this is what helps me to keep myself into the match when I don't feel well and I changed so many things and it really helped me."
No. 16 Suarez Navarro sought the help of a sport psychologist after struggling in the second half of the 2015 season.
NAVARRO: "I started thinking about it [working with a sport psychologist] last year when I lost a lot of matches after Wimbledon. I didn't think that with my coaches we could find the solution for that, because I was playing well and practicing well so it was something with my mind for sure."
So what part of your game needs improvement?
What mental skills could vault you to greater heights in tennis?
Tennis players have sought the help of sport psychologists and Mental Game Coaches for a number of reasons including:
–building confidence
–setting goals
–managing on-court emotions
–sharpening focus
–dealing with high expectations
–overcoming obstacles
–improving focus in practice
–dealing with pressure, etc.
If you are not performing as well in matches as you do in practice, that's a good sign that you can benefit from mental training.
Since all physical aspects have a mental component, mental training is an ideal supplement to your overall game.
CIBULKOVA: "I would say tennis is very mental, and [working with a mental coach] has really helped me… I realized that I have to work on this side, like regular practice. We have mental training sessions, and we work that way also with my coach in practices. It's something that's helped a lot."
Strategies for a Stronger Mental Game:
1. Honestly assess your mind game. Email me for a one-page test you can take to see what's missing in your mental game.
2. Identify three mental skills as strengths. What mental skills have helped you perform your best during tennis matches? It is important to know your strengths to bolster your confidence.
3. Identify three mental skills that you want to improve. Take a few minutes to image how much better your play will be if you strengthen these three mental skills.
4. Create a game plan. What specific strategies can you apply in practice and matches to help improve your mind game?
---
Related Tennis Psychology Articles:
*Subscribe to The Tennis Psychology Podcast on iTunes
*Subscribe to The Tennis Psychology Podcast on Spotify
---
Improve Your Mental Game for Tennis
Tennis Confidence 2.0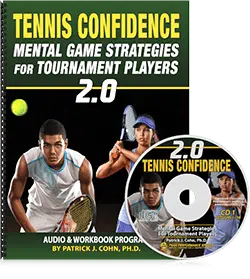 "Tennis Confidence: Mental Game Strategies for Tournament Players" is an audio and workbook program to help tennis players, coaches, and instructors improve the mental game of tennis is just 10 easy to learn sessions. Tennis Confidence: Mental Game Strategies for Tournament Players Audio and Workbook program is ideal for any junior, collegiate, and tour professional player. Tennis coaches and instructors would also be wise to teach the strategies "Tennis Confidence."
Tennis Confidence is a complete mental training program developed Peak Performance Sports. You learn the same strategies Dr. Cohn teaches his tennis players to help them improve mental toughness and consistency – from managing unrealistic expectations to coping with perfectionism.
Read more about Tennis Confidence Program>>