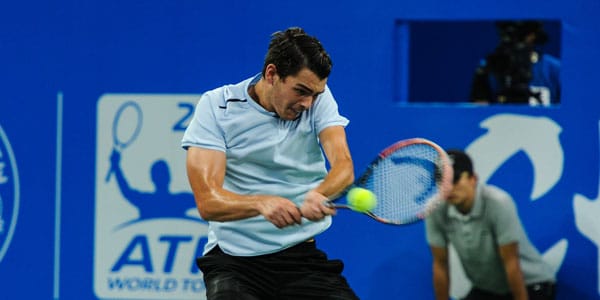 Being a Team Player
What helps a tennis player reach the next level? You have probably thought about this question and searched for the missing ingredient to put you over the top.
No doubt, reaching the next level has several components.
You must have the technical skills to advance your game. You need to have the confidence to play at a higher level or against more formidable opponents. You need to develop the ability to manage your emotions and perform under pressure.
These aspects of performance are critical, but without "trust" in your game, all the ability in the world will not lead you to peak performance.
Trust is more than having just technical skills. Trust is believing you can perform these skills under pressure and against higher-ranked opponents.
When you have trust in your game, you go for your shots instinctively without fear. When you have trust, you are not thinking, "What if I hit the ball long?" You just hit the ball. You don't fear hitting your first serve into the net. You just go for it.
When you have trust in your game, you swing freely and you are aggressive during matches rather than being tentative. You will have maximum confidence to play at the next level when you play with trust in your strokes.
The question then is how you develop trust in your game.
To answer this question, let's look at the performance of Taylor Fritz at the 2022 Indian Wells Masters. Fritz, 24, beat Rafael Nadal in the finals 6-3, 7-6(5) to win the tournament. Fritz attributed his success to two key factors: trust in his forehand and trust in his ability to win big points.
FRITZ: "Since the last edition of this tournament, it's been the forehand that's really been clicking for me. Just being able to unload and trust it. It used to be a shot that would just misfire, almost lose me matches. Now it's like I can trust it no matter what to really pull the trigger on a big point, get extra free points."
Fritz developed the trust in his game by putting in the work in training and practice. Notice, next-level play is not a matter of putting in the time; it's the quality of work that matters.
When you play competitively in practice, you train your mind to play competitively in tournaments. When you go for it in practice matches, you train yourself to be aggressive in competitive matches.
When you work to develop hitting your strokes with trust in practice, that trust will show up for you in matches.
To sum it up, trust is a critical mental skill that can take your game to greater heights.
Tip for Performing with Trust in Tennis Matches:
Try these three steps to increase trust in your game.
1. Work on trusting your strokes in practice matches.
2. Visualize yourself playing with trust and hitting those shots for winners.
3. Swing out on the ball from the start of the match instead of playing safe.
Trust is developed. If you don't compete in practice, you will not build trust in your game.
---
Related Tennis Psychology Articles
*Subscribe to The Tennis Psychology Podcast on iTunes
*Subscribe to The Tennis Psychology Podcast on Spotify
---
Improve Your Mental Game for Tennis
Tennis Confidence 2.0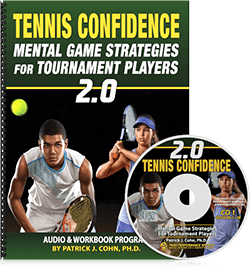 "Tennis Confidence: Mental Game Strategies for Tournament Players" is Dr. Cohn's program to help tennis players, coaches, and instructors improve the mental game of tennis is just 8 easy to learn sessions. Tennis Confidence: Mental Game Strategies for Tournament Players Audio and Workbook program is ideal for any junior, collegiate, and tour professional player. Tennis coaches and instructors would also be wise to teach the strategies in "Tennis Confidence 2.0."
Tennis Confidence is a complete mental training program developed Dr. Cohn. You learn the same strategies Dr. Cohn teaches his personal students to help them improve mental toughness and consistency – from managing unrealistic expectations to coping with perfectionism.
 Read more about Tennis Confidence Program>>