Your Mindset For Beating Higher Ranked Players
Competing against tough competition requires mental toughness…
When competing against top competition, your opponent may be more skilled than you, but if you have more mental toughness, you can even the match court.
Many tennis players lose the match even before they step on the court because they lack the necessary mental toughness to perform their best.
Take for instance the following illustration…
Becky L. is a sophomore Division II tennis player.
Becky has performed solidly her first two collegiate seasons but falls apart when she competes against the top players in her conference.
It is the same old story for Becky, when she finds out she is playing a highly ranked opponent, she becomes overwhelmed by negative thoughts, such as, "I can't beat her," "She is the best player in the conference… she will crush me," "She has such a dominating serve, I will never be able to return it."
Becky's anxiety steadily climbs and, by the time the match starts, she can't even relax.
Becky becomes acutely aware of her pounding heart, tight muscles and upset stomach.
At that point, focusing on playing good tennis feels like an impossible task… Becky just wants the match over as quickly as possible and it is evident by her play.
Becky appears rushed and makes mistake after mistake.
Becky's confidence sinks and she is loses in straight sets… Just as she had predicted!
A better way to approach playing against top-ranked opponents is the approach successfully utilized by rising star Naomi Osaka.
Osaka displayed a high level of mental toughness during her breakthrough win at the BNP Paribas Open.
Osaka beat several top-ranked players including No.1 Simona Halep, No.5 Karolina Pliskova, Agnieszka Radwanska, and Maria Sharapova en route to her first professional title beating Daria Kasatkina 6-3, 6-2 in the final.
Even more impressive is the fact that Osaka dropped just one set during the tournament as she climbed 22 spots in the rankings with her victory.
Osaka revealed her mindset for each match against higher ranked opponents…
Osaka: "Every match that I've played I've thought, 'just don't give up no matter what' because everyone I played was super tough. I feel like that's really helped me and my mentality of coming to the finals and eventually winning."
Osaka's mindset helped her grind out tough matches and never lose faith.
Osaka focused on her game and playing consistently throughout the tournament instead of getting wrapped up in her opponent's rankings, successes and abilities.
Osaka: "[Being consistent] means that I'm not giving away free points. I'm not going to slap a ball when it's not there. Just to have good matches… and not be as much of a roller-coaster."
Mental toughness gives you the chance to focus on your strategy for playing each point. This focus-on-one-point mindset is critical for consistent play.
When you play consistent tennis, anything can happen… even beating top-ranked players.
How to Beat the Better Players:
Adopt the "any-given-day" mentality. Stuff happens on the other side of the court.
Your opponent might:
Get tight
Become tired at the end
Protect the lead
Cramp up
On any given day, you can pull out a victory against higher ranked players.
After all, you don't know if your opponent is having an off day, is tired, has a nagging injury, is just getting over being sick or is dealing with personal issues.
And you don't even know if this current match will be your breakout performance or the match that takes your game to the next level.
Give yourself a chance and you will always have a chance.
---
Related Tennis Psychology Articles:
*Subscribe to The Tennis Psychology Podcast on iTunes
*Subscribe to The Tennis Psychology Podcast on Spotify
---
Improve Your Mental Game for Tennis
Tennis Confidence 2.0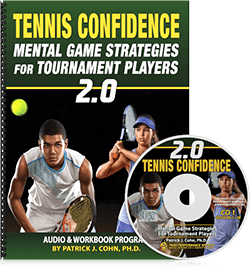 "Tennis Confidence: Mental Game Strategies for Tournament Players" is Dr. Cohn's program to help tennis players, coaches, and instructors improve the mental game of tennis is just 8 easy to learn sessions. Tennis Confidence: Mental Game Strategies for Tournament Players Audio and Workbook program is ideal for any junior, collegiate, and tour professional player. Tennis coaches and instructors would also be wise to teach the strategies in "Tennis Confidence 2.0."
Tennis Confidence is a complete mental training program developed Dr. Cohn. You learn the same strategies Dr. Cohn teaches his personal students to help them improve mental toughness and consistency – from managing unrealistic expectations to coping with perfectionism. 
Read more about Tennis Confidence Program>>