Playing Confident Tennis Under Pressure
A tournament is a tournament… A match is a match, no matter if you are playing the best player in the world…
Or are playing in a final…
Or are playing in front of your entire friends and family…
Or would move up in the rankings if you were to win…
Or are playing in the biggest tournament of your life.
No matter the circumstances, a tournament is just a tournament and a match is just a match.
When you assign greater significance to an event, you heap more pressure on yourself and most tennis players crumble under the weight of excessive pressure.
Although, in bigger matches, what really changes?
You have the same ability as in previous matches. The court dimensions remain the same. The ball is the same ball you play with in practice and other matches. The game is the same game you have played for years.
What does change is your interpretation of the importance of the situation or your mindset heading into the match. The good thing is that you can choose your mindset.
Unfortunately, many tennis players neglect their mental preparation and don't understand that undue, excessive pressure is something they do to themselves and, thus, they can undo this overwhelming pressure by consciously choosing their mindset.
Former No. 1 tennis player, Novak Djokovic, hit a rough spell over the course of a year.
Djokovic has under performed in tournaments that he dominated in previous years. The pressure of high expectations seemed, at times, to get to him.
Djokovic is looking to regain his form as he heads into Wimbledon not by changing racquets or overhauling his game. Djokovic has improved his game by consciously deciding to change his mindset. Instead of approaching majors as 'must win' events, Djokovic has decided to treat all matches the same, as just another tournament.
At the recent Wimbledon warm-up, the 2017 Aegon Eastbourne International, Djokovic's newfound mindset helped him win the title as he beat Gael Monfils in straight sets.
NOVAK DJOKOVIC: "Of course Grand Slams are different from any other tournament, but a tournament is a tournament. Going out, especially, for a top player to go out on the court, regardless of the, say, the level of competition or the category of the event, you always are, you know, expected to deliver. Of course it's up to you how you deal with it and how you carry that."
It is up to you regarding how you approach each tournament and that approach or mindset will affect the level of pressure you experience and how you play on the court.
So what mindset will you adopt for your next tournament?
Try this tip to improve your mindset in the next match:
Before you even step foot on the court, know you have the choice for your mindset.
Tell yourself, "This match is no different than any other match I've played. This is just another match so have fun."
Let go of the thought about the outcome and what it means to win or lose this match. Will anyone remember the outcome in one week?
Tennis is a mind game. You want to work on your mental game in the same way you work on your serve–with consistency and dedication.
---
Related Tennis Psychology Articles:
*Subscribe to The Tennis Psychology Podcast on iTunes
*Subscribe to The Tennis Psychology Podcast on Spotify
---
Improve Your Mental Game for Tennis
Tennis Confidence 2.0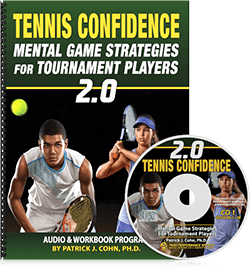 "Tennis Confidence: Mental Game Strategies for Tournament Players" is Dr. Cohn's program to help tennis players, coaches, and instructors improve the mental game of tennis is just 8 easy to learn sessions. Tennis Confidence: Mental Game Strategies for Tournament Players Audio and Workbook program is ideal for any junior, collegiate, and tour professional player. Tennis coaches and instructors would also be wise to teach the strategies in "Tennis Confidence 2.0."
Tennis Confidence is a complete mental training program developed Dr. Cohn. You learn the same strategies Dr. Cohn teaches his personal students to help them improve mental toughness and consistency – from managing unrealistic expectations to coping with perfectionism. 
Read more about Tennis Confidence Program>>