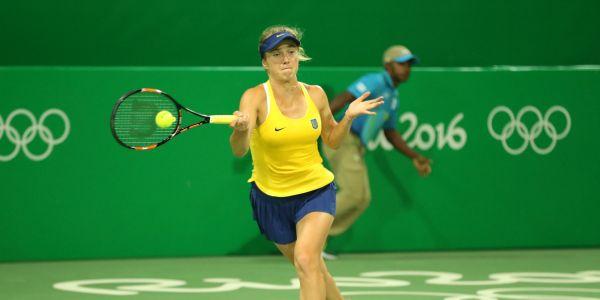 How does your Ranking Affect your Next Match?
While victories may boost your confidence, those wins have little bearing on the results of your next match. In other words, just because you won your last match does not guarantee you will win your next one.
Too many players fall into the trap of "expecting" to win, so they become lax in practice or don't prepare with the same urgency.
Furthermore, some tennis players with a higher ranking, better record, or a significant lead in head-to-head matches take some of their opponents lightly.
When you "expect to win" but don't prepare or fully focus on the task at hand, you will underperform and possibly lose.
For example, when you think, "I have never lost to this opponent. There is no way I will lose," you presume you will win again. You have claimed victory before stepping on the court.
When you take an opponent for granted, you will usually start slow. By the time you recognize that the match is in jeopardy, it won't be easy to shift gears.
Changing your mentality in the middle of a match is a tough task. This is why upsets are not uncommon in tennis…
Successful tennis players are successful for a reason.
* Elite players never take their opponents lightly.
* Top-level players prepare at a high level for every match.
* Tennis champions fight for every point, whether they are leading or trailing.
No. 2 Carlos Alcaraz fought back from a set down to avoid an upset at the 2023 Madrid Open. Alcaraz lost the first set to 41st-ranked Emil Ruusuvuori 2-6 before winning the following two sets 6-4, 6-2 to advance in the tournament.
Alcaraz stated that he thoroughly prepares and approaches each match with the same mindset.
ALCARAZ: "Maybe people think that I should win easily or not get into trouble in matches, but each match is its own world. It was a very hard match. You just have to stay humble and accept the bad moments as they come and try to turn it around."
Each match is a separate event, its own battle. To be a top player, you must prepare like a top player and continue improving your game. You need to understand that on any given day, any player can win.
Remember, victory doesn't always go to the player with a better ranking but to the player who prepares at a consistently high level and fights for every point from the first to the last.
Ask yourself, "What do I need to do to play well against this opponent?" Write down three game plans you can use during the match–Plan A, B, and C.
Once you are on the court, ranking and seedings do not matter. What's important in your mental approach and tactics for each point.
Place your plan in your equipment bag as a reminder to immerse yourself in the match and fight for each point.
---
Related Tennis Psychology Articles
*Subscribe to The Tennis Psychology Podcast on iTunes
*Subscribe to The Tennis Psychology Podcast on Spotify
---
Improve Your Mental Game for Tennis
Tennis Confidence 2.0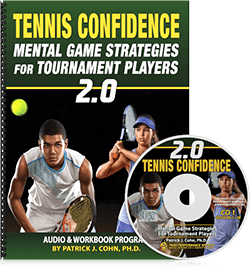 "Tennis Confidence: Mental Game Strategies for Tournament Players" is an audio and workbook program to help tennis players, coaches, and instructors improve the mental game of tennis is just 10 easy to learn sessions. Tennis Confidence: Mental Game Strategies for Tournament Players Audio and Workbook program is ideal for any junior, collegiate, and tour professional player. Tennis coaches and instructors would also be wise to teach the strategies "Tennis Confidence."
Tennis Confidence is a complete mental training program developed Peak Performance Sports. You learn the same strategies Dr. Cohn teaches his tennis players to help them improve mental toughness and consistency – from managing unrealistic expectations to coping with perfectionism.
Read more about Tennis Confidence Program>>