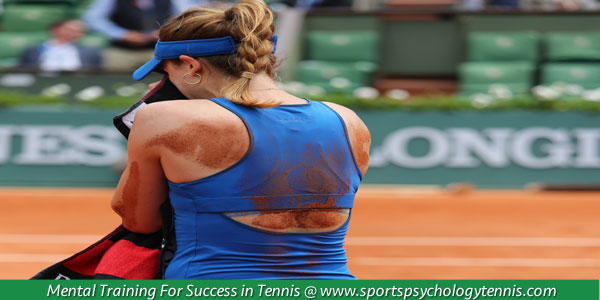 How Does Sharapova Deal With Losing?
Winning is important for many tennis players. Winning can become so important that tennis players focus too much on winning during the match.
Thinking too much about the outcome distracts players from the present moment and can be a source of stress. For example, some junior tennis players worry about disappoint a parent if they lose a match they are expected to win.
When you win matches, you obviously get a boost of confidence.
Winning matches can validate your hard work and dedication. But not everyone can win in a single tournament – you only have one winner. In a draw if 32 players, 31 players are out played.
Professional tennis player, Maria Sharapova is no exception. In her career, Sharapova has lost 70 matches! Wow, that sounds like a lot of lost matches for a player that held the number one ranking for 17 weeks on the WTA.
When asked about losing matches, Sharapova said she uses them to help her learn and become a tougher player:
"You know, I think I learn a lot from losses, and I think losses make me a lot tougher. You know, they make me want to go out on the practice court and work a lot harder. So probably, you know, I was very disappointed, and I went out there and I worked really hard. You know, I thought about the things I needed to work on. After Serena's loss, I knew I had a tournament next week, and I was just so mentally ready and I wanted to win. I didn't want to lose any more, especially after having match points. I didn't feel like losing any more, and I didn't want to lose. So it was just mentally and physically trying to get prepared to win."
~Maria Sharapova
Some tennis players dwell on their losses, which tends to undermine their confidence. They may carry their last loss with into the next tournament and doubt their skills. When players dwell on their losses and mistakes, they can become frustrated, lose motivation, and even lose confidence.
The top tennis players with mental toughness learn use losing as a way to rebound, learn how to improve, and become more mentally tough.
Maria Sharapova doesn't like to dwell on her losses. Instead, she uses them to prepare better for her next tournament.
How does Sharapova get over losses?
She doesn't look at losing as a failure. Instead, she looks at losing as a learning opportunity; a way to get better for the next tournament. Losing motivates her to work hard and improve the weaker areas in her game.
Sharapova's outlook on losing comes from her experience and tennis mental toughness. When Sharapova is losing in a game, she doesn't lose her cool.
"I think confidence is a part of it. I think experience plays a big part in it. I feel that, you know, I'm a much more experienced player when I'm down love-30 on my serve. You know, it is the confidence obviously. I know it works well and I have a lot of experience behind my back and I feel good about myself, even when I'm down love-30. Obviously, it has a lot to do with confidence and having matches behind your back. But it also comes with experience. A year ago, when I was down love-30, I would panic and think, "What do I do now? I'm serving and I'm down love-30."
~Maria Sharapova
Tennis players with mental toughness don't hang their head over defeat and lose confidence. They do something about it… They bounce back stronger with renewed commitment. When you play a sport where you lose more tournaments than you will win, you have to maintain a positive outlook on your game or you'll get swept away by doubt.
Today's mental game of tennis tip:
Always focus on two things you did well in every match, win or lose. Learn from your mistakes, but don't beat yourself up over them.
Honestly assess what you need to work on in practice to improve your strokes and mental toughness and set a plan to help you improve these areas of your game.
In the next tournament, you'll be a better player for it.
---
Learn Proven Mental Game Strategies To Perform Your Best On The Court!
Are you (or your players) performing up to your ability in competition?
Do you bring your best and most confident game to matches?
Successful tennis players have learned how to perform with ultimate confidence in tournaments.
If you are ready to improve your mental toughness and perform with ultimate self-confidence in matches, Tennis Confidence: Mental Toughness For Tournament Players can help you do this!
Use Tennis Confidence to help boost your mental toughness in tennis and discover powerful and proven mental game strategies that have helped professional athletes win!
Tennis Confidence: Mental Toughness For Tournament Players
What are mental game customers saying?
"We are amazed at how much 'The Confident Athlete' program has helped my niece play her best tennis during matches. She literally made it to the farthest round of a tournament (semifinals) after finishing the CDs/workbook. We are going to do all five in the series."
~Jason Bourguignon, Uncle
---
Download Our Free Tennis Psychology Report!

Discover if you are making one or more of these "costly" unforced mental game errors during matches!
Download our free Tennis Psychology Report:
Six Unforced 'Mental Game' Errors Tennis Players Make Between Points
You'll discover:
How your mind can be your best or worst asset on the court.
If you are using your mind effectively between points.
One strategy that can help you let of go the last point.
The top mental game skills you need to master to boost your confidence and performance between points.
Click here to download your FREE report today: Six Unforced 'Mental Game' Errors Tennis Players Make Between Points
What are tennis players saying?
"Dr. Cohn, one of my goals is to become a world-class-coach, There are a few coaches from the US who inspired me the most-John Wooden, Son Shula, and Pat Riley. After working with you, I now also list your name among the most influential coaches in my field!"
~Franz
---
Boost Your Self-Confidence And Focus With Expert Mental Game Coaching!
Master mental game coach Dr. Patrick Cohn can help you overcome your mental game issues with personal coaching.
You can work with Dr. Patrick Cohn himself in Orlando, Florida or via Skype, FaceTime, or telephone. Call us toll free at 888-742-7225 or contact us for more information about the different coaching programs we offer!
What are our mental coaching students saying?
"Since you last worked with AJ in early September, his National ranking has improved from 349 to 148. His tournament record at one point, since talking with you was 17-4, with 3 of the 4 being in third sets or tiebreakers and 2 of those matches being the same player, whom he has since beaten (you may recall he was on an 0-9 losing streak when we contacted you). His tie-breaker record is at least 90% through last weekend when he won the 18s District tournament with a semi and final match tiebreak win. Your help has definitely improved AJ's results and his on-court demeanor has substantially improved."
~Dawn Woodman, A.J.'s Mother