Improving Your Mental Game to Boost Confidence
How much of sports is a mental game?
50%, 60%, or even 90%?
"They say that sports are 90% mental and 10% physical. But that's not true because no one is out there playing chess. Sports are physical, 90% physical and 10% mental. That last 10% though, the mental part is what can take you to your 100%."
Very true, as South African tennis player, Raven Klaasen, believes…
Klaasen came close to being the country's first tennis player to win the men's doubles at Wimbledon.
When asked about his progress and this milestone for South African tennis, Klaasen denoted much of his success to the development of his mental game.
A few years ago, Klaasen added another coach to his team… A mental coach.
He said:
"I have always been physically gifted and able to play the sport but I never really had the belief that I was good enough."
"I think in order for you not to have to worry about the mental side of your game, you have to be significantly better than your opponent. Once your opponent is at a similar skill level that you are, then the smaller things start making a difference. That's when you really need your mental game."
Klaasen's mental coach has helped him have a "mind shift," as he explained it.
His mental coach helped him unlock his mind's potential. He had no belief, and Klaasen said his mental coach did a great job of teaching him how to believe.
Klaasen commented:
"When you step onto a court at Wimbledon, that is a pressurized environment where you have to perform and the belief plays a big part. Believing is key for me."
Having the belief in yourself and abilities, also known as confidence, is crucial to your performance as a tennis player.
One way to constantly build confidence is to reflect on the good things after a match.
Klaasen mentioned:
"You often forget the things you do well because of the mistakes. We did a lot well."
Recognizing the good after matches is a strategy Klaasen uses to maintain his confidence.
Like Klaasen, pick out the good from each match and use it to build your confidence. Avoid picking apart your game with the missed shots and opportunities.
---
Related Tennis Psychology Articles:
*Subscribe to The Tennis Psychology Podcast on iTunes
*Subscribe to The Tennis Psychology Podcast on Spotify
---
Improve Your Mental Game for Tennis
Tennis Confidence 2.0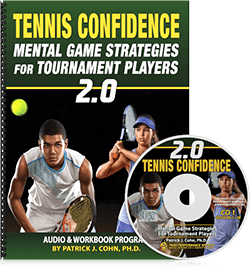 "Tennis Confidence: Mental Game Strategies for Tournament Players" is Dr. Cohn's program to help tennis players, coaches, and instructors improve the mental game of tennis is just 8 easy to learn sessions. Tennis Confidence: Mental Game Strategies for Tournament Players Audio and Workbook program is ideal for any junior, collegiate, and tour professional player. Tennis coaches and instructors would also be wise to teach the strategies in "Tennis Confidence 2.0."
Tennis Confidence is a complete mental training program developed Dr. Cohn. You learn the same strategies Dr. Cohn teaches his personal students to help them improve mental toughness and consistency – from managing unrealistic expectations to coping with perfectionism. 
Read more about Tennis Confidence Program>>