How Can You Develop Tennis Confidence?
Tennis is a mental game at any level. Superior talent and hard work alone don't make champions.
The top players in the game, such as Federer and Safina, win championships because they have a strong mental game. And one of the fastest ways to lift your performance and consistency on the court is to play with confidence every match.
The hallmarks of great players in the game – confidence, focus, and composure – lead to consistent performance.
Ask yourself these important questions:
Do you lose self-confidence easily after errors or a tough loss?
Does your self-confidence go up and down like a roller coaster during matches?
If you don't "have it" during your prematch warm-up, does your confidence suffer early in the match?
For many tennis players, self-confidence can be fleeting or fragile at best. But fleeting or fragile confidence is not true belief in your ability.
If you allow your confidence to crash because of immediate results or errors during the match, you simply can't perform your best in the match.
Based on 20 plus years of helping athletes improve their mental game, in this article, I'll share with you five "secrets" to playing tennis with high self-confidence.
The top players in the world work hard, possess physical talent, and push themselves to their physical limit. The difference between losing in the first round and winning the tournament comes down to your ability to harness full self-confidence, cope with errors, and focus well at critical times during the match.
"The bottom line is that tennis is a very mental game. Everybody is strong, everybody is pushing hard. But the difference between the top players is the mental ability to cope with the pressure and hit the right shots at the right time and stay calm in the moments when you need to stay calm."
~Novak Djokovic
So what are my five secrets to playing with greater self-confidence?
Before I share my secrets to playing with confidence, let me define tennis confidence.
First, confidence is not arrogance. You may think that confident players are arrogant and use intimidation to scare the competition.
But I'm talking about a different kind of self-confidence. Real self-belief is a silent self-confidence within you that's nothing like arrogance.
Second, confidence is a strong, stable belief in your own abilities—a belief that you can execute any shot at any moment of the match.
Tennis Confidence Secret #1: Confidence is Destroyed by High Expectations
Most tennis players, coaches, and parents assume if you have high expectations, you must also have high confidence.
The question I often get is: If I expect to win or expect to play well, doesn't that mean that I am confident that I can win or play well?
My answer is a big "NO."
But here's my conclusion after working with 1000's of athletes: strict or high expectations can undermine and suck the life out of confidence.
Confidence is based on the strength of the belief in your ability or how strongly you think you can perform well. Expectations, on the other hand, are judgments and demands that you place on your game.
Expectations focus on outcomes or the level of your performance. Confidence must precede your shots such as when you know you will hit a good serve before you hit it. But confidence is void of strict expectations or the need to execute a good shot.
Why are expectations so harmful to your confidence?
First, you set yourself up for a win/lose proposition. You either achieve your expectations or you fail to achieve your expectations.
Second, if you don't achieve your elevated expectations, it's easy to question your ability that day and lose hard-earned confidence. Essentially, you set yourself up for failure before you even start.
One of your goals to boosting confidence is to weed out harmful expectations and replace with what I call "manageable goals."
Read more about how to rid yourself of expectations that hurt tennis confidence….
Tennis Confidence Secret #2: Real Confidence is Long Lasting, Not Fleeting
Anyone can get an immediate boost of confidence from winning or playing well, but can you keep confidence even after losing to a weaker player?
If you ride the confidence roller coaster (confidence goes up and down rapidly), you don't have real, long-lasting self-confidence. If your confidence is fragile or fleeting with every point, game, or set, you have fragile self-confidence.
Fragile self-confidence or letting immediate results or errors dictate how confident you feel in the present moment is NOT true confidence.
Real self-confidence is stable, long-term, and lasting even under adversity or poor results. The most confident athletes in the world, such as Tiger Woods, Roger Federer, and Michelle Akers, have gained confidence from their practice and positive results, but they also stay confident even after a defeat or poor play because they don't allow immediate results to rock their confidence.
I ask my students: "How long have you been working on your confidence?"
They look at me weird when I ask a follow up question: "How long have you been playing?"
They answer, "8 years" or "15 years" or something else.
I reply: "That's how long you have been working on your confidence. Does it make sense to throw away eight years of confidence after a missed shot or dropped game?"
My students always answer "no."
Read more about how to get long-lasting tennis confidence…
Tennis Confidence Secret #3: Competitive Self-Confidence Counts the Most
Most tennis players don't understand the huge divide between practice and competitive self-confidence. I see tennis players that look like stars in practice, but can't take their practice to matches because of a lack of self-confidence in matches, despite a high level of confidence from practice.
Do you gain confidence from your practice routines, but your confidence disappears when you enter a match situation?
I know of many reasons why players' confidence dwindles when they go from practice to matches.
You might have fear of failure and get too tight on the court to hit shots freely. You might worry about letting others down and focus too much on not disappointing others. You might have a history of choking away matches you should have won. Or it might be for another reason altogether.
What's the solution?
You start by uncovering the mental roadblock (doubt, fear, indecision, intimidation, etc.) that holds back your confidence in matches. Your confidence will not flourish in tournaments until you address what's holding it back.
Read more about how to grow your tennis confidence in matches…
Tennis Confidence Secret #4: Confidence is Still a Mindset
Tennis players and coaches assume that confidence is directly proportional to the amount of time you put into your game during practice and training.
Now, I have to agree that confidence depends a lot on the amount and quality of your practice, training, and past success in tournaments.
However, do you know players who train and practice a lot, but doubt their ability in matches?
Likewise, do you know players who don't work hard in practice, but have a ton of confidence in matches?
I think you get my point…
Confidence is a mindset when it's time to face your opponent across the net. Sure, practice makes you feel prepared. Past wins can help give you a mental edge.
Your fitness training can give you a boost in confidence. However, practice, training, past wins, and fitness don't add up to confidence if you doubt your ability or can't trust in your training and practice!
If you tighten up for fear of making errors during matches, it's hard to feel confident in your game.
If you are too modest about your skills, if you hide behind a false persona of confidence, or if you "hope" to play well, your mindset is hindering the growth of your confidence.
Read more about how to grow your tennis confidence in matches…
Tennis Confidence Secret #5: Be Proactive, Not Reactive with Confidence
You, and only you, are responsible for your confidence level in tournaments!
Remember, you create your own confidence mindset.
Too many players don't take full responsibility for their own confidence prior to playing a match. Confidence takes a back seat to immediate results in matches. They can't feel confident until they see positive results in their warm up or win the first few points of the match.
If this sounds like you, you must see positive results or your game must feel just right, before you can feel confident. Your confidence is too reactive to what's happening early in the match.
As I stated, your confidence should be based on years of practice and competition, not on immediate performance.
You have lots of successes to draw upon even before the competition begins. You want to learn how to be more proactive with your confidence level – take full responsibility for confidence – prior to match time.
How can you be proactive with your confidence?
First, you want to remind yourself of the reasons why you deserve to play with confidence.
Second, you should focus on what you can control during a match such as what you focus on to feel confident.
Read more about how to be more proactive with your tennis confidence in matches…
Conclusion
I hope you now understand that growing your confidence is not just about practice, training, fitness, or your equipment. How you harness confidence before, during, and after matches is critical to performing well consistently on the court.
Many intangibles in tennis, such as your match mindset, belief, trust, and your ability to be proactive are the keys to playing with stable, long-lasting confidence.
Stop riding the confidence roller-coaster during matches.
Learn how to harness your full potential with ultimate self-confidence.
If you want to learn all my secrets for growing your tennis confidence AND keeping it high, I suggest check out "Tennis Confidence: Mental Toughness for Tournament Players" Audio and Workbook program!
---
Related Tennis Psychology Articles
*Subscribe to The Tennis Psychology Podcast on iTunes
*Subscribe to The Tennis Psychology Podcast on Spotify
---
Improve Your Mental Game for Tennis
Tennis Confidence 2.0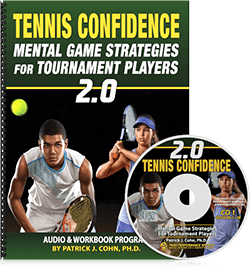 "Tennis Confidence: Mental Game Strategies for Tournament Players" is an audio and workbook program to help tennis players, coaches, and instructors improve the mental game of tennis is just 10 easy to learn sessions. Tennis Confidence: Mental Game Strategies for Tournament Players Audio and Workbook program is ideal for any junior, collegiate, and tour professional player. Tennis coaches and instructors would also be wise to teach the strategies "Tennis Confidence."
Tennis Confidence is a complete mental training program developed Peak Performance Sports. You learn the same strategies Dr. Cohn teaches his tennis players to help them improve mental toughness and consistency – from managing unrealistic expectations to coping with perfectionism.
Read more about Tennis Confidence Program>>