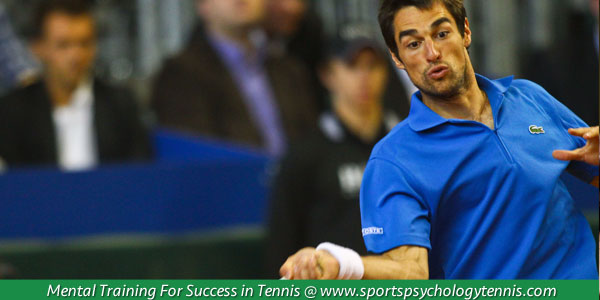 Boosting Match Confidence
If you performed with more confidence in tennis matches, what do you think you could achieve?
Can you recall a tennis tournament where you wished you had more confidence?
Perhaps you have been told you have all the physical tools to accomplish a lot in the sport of tennis…
Maybe you have been praised for your work ethic in practices…
But during tennis matches, you question your abilities and don't play the way you are capable of playing based on your practice.
You under performance as a result of your lack of confidence.
We know that confidence allows players to play their best, most consistent tennis.
And we all know the flip side is true, lacking confidence can ruin our performance on the court and cause you to second-guess every point your lose.
Everybody agrees on the importance of confidence but may not know how to foster confidence.
By modeling elite tennis players, you can start to increase your level of confidence.
Grigor Dimitrov, 23, had a successful junior career before hitting the professional tour in 2008… Due to his confident play, Dimitrov is becoming a force in men's tennis is currently ranked No. 13.
Dimitrov won his fourth career title with his victory at the 2014 Aegon Championships beating Spain's Feliciano Lopez 6-7(8) 7-6(1) 7-6(6).
Dimitrov's victory made him the first player this year to win titles on three different surfaces after winning on the hard courts in Acapulco and the clay of Bucharest.
Try these tips to develop the confidence of a top tennis player…
1. Use loses as motivation to improve. Look for ways to improve your game and rebound for your next match.
DIMITROV: "The good thing in tennis is you always have a next week, but it's just when you fall, I think the matter is how are you going to get up? How are you going to bounce back?"
2. You need to consciously choose a constructive response to a loss. Your positive response will help you maintain a positive focus for future matches.
DIMITROV: "It's [your response to losses] also how you're going to prepare and how your mental state will be. It [early exit at the French Open] was just painful… But at the same time that pushed me into those hard sessions on and off the court. Eventually put me in a really good position. I was really positive coming into that week."
3. You should take pride in your preparation. Preparation is the key to confidence.
DIMITROV: "You've got to make sure that you come out on the court… You prepare the best way possible… But I don't think I should take any match as just a match. So that's why I think the approach and the attitude that you have, it's much more important to anything else. Eventually your game catches up with, you know, with all the rest."
Successful tennis players have learned how to perform with ultimate confidence in tournaments. We've developed Tennis Confidence: Mental Toughness For Tournament Players to help you do this.
---
Related Tennis Psychology Articles
*Subscribe to The Tennis Psychology Podcast on iTunes
*Subscribe to The Tennis Psychology Podcast on Spotify
---
Improve Your Mental Game for Tennis
Tennis Confidence 2.0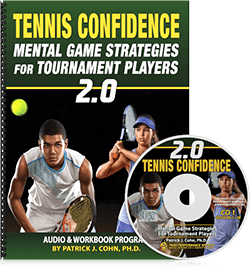 "Tennis Confidence: Mental Game Strategies for Tournament Players" is an audio and workbook program to help tennis players, coaches, and instructors improve the mental game of tennis is just 10 easy to learn sessions. Tennis Confidence: Mental Game Strategies for Tournament Players Audio and Workbook program is ideal for any junior, collegiate, and tour professional player. Tennis coaches and instructors would also be wise to teach the strategies "Tennis Confidence."
Tennis Confidence is a complete mental training program developed Peak Performance Sports. You learn the same strategies Dr. Cohn teaches his tennis players to help them improve mental toughness and consistency – from managing unrealistic expectations to coping with perfectionism.
Read more about Tennis Confidence Program>>