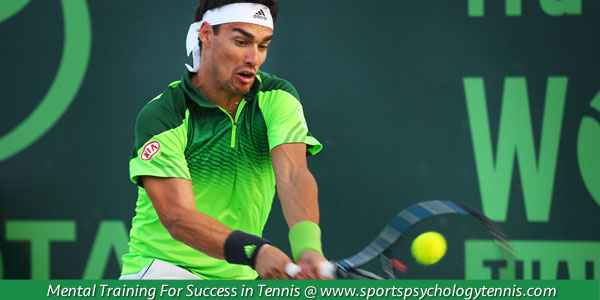 Do You Put Too Much Pressure on Yourself?
I love the psychology of tennis during big tournaments.
The momentum shifts of a final match, such as Federer and Nadal in the 2009 Australian Open, are so fun to watch. Most tennis fans see the shots and strategy, but don't pick up the psychology of the match – at least as much as I do.
As a tennis psychology expert, I could see Federer tighten up in the fifth set and make more mental errors causing more physical errors. Federer had 14 unforced errors in the set to Nadal's two unforced errors.
Did Federer feel the pressure to win and thus tighten up or did he mysteriously lose his ground strokes in the final set?
Yes, the psychology of tennis usually determines the winner of the match.
Nadal didn't have to say a lot after the final match, but I was able to catch a couple tennis psychology gems from his post-match interview…
He was asked if winning the match made him a better person, a crazy question, but a good answer from Nadal. I loved this quote from Nadal about not changing as a person:
"I just won an important title for my career. But I'm no better five hours before than now, no? When you win an important match. But you have to know before the match who you are and after the match you have to know who you are, too. You are the same, no?"
~Rafael Nadal
You have to know who you are. Great stuff from Nadal!
What does he mean?
From a psychology of tennis perspective, this concept may have helped Nadal win the tournament. I'll tell you why. Many athletes define themselves through their achievement or lack of success. They allow their performance to dictate how they feel about themselves as a person. This is a problem for me in my work with athletes.
Maybe Federer put too much pressure on himself to win because he wanted to regain the #1 spot in the world… Maybe he wanted it so badly so he could feel better about himself whereas Nadal didn't care how it affected him as the person… This is common in my work, but I can only speculate.
Your tennis psychology tip for today
Know who you are on the inside – the person – before you play. That way, your success or failure in the match will not change how you feel about yourself as a person and you can leave the court happy with yourself no matter what.
Your comments are welcome. Please post them below.
---
Related Tennis Psychology Articles
*Subscribe to The Tennis Psychology Podcast on iTunes
*Subscribe to The Tennis Psychology Podcast on Spotify
---
Improve Your Mental Game for Tennis
Tennis Confidence 2.0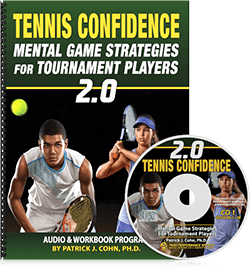 "Tennis Confidence: Mental Game Strategies for Tournament Players" is an audio and workbook program to help tennis players, coaches, and instructors improve the mental game of tennis is just 10 easy to learn sessions. Tennis Confidence: Mental Game Strategies for Tournament Players Audio and Workbook program is ideal for any junior, collegiate, and tour professional player. Tennis coaches and instructors would also be wise to teach the strategies "Tennis Confidence."
Tennis Confidence is a complete mental training program developed Peak Performance Sports. You learn the same strategies Dr. Cohn teaches his tennis players to help them improve mental toughness and consistency – from managing unrealistic expectations to coping with perfectionism.
Read more about Tennis Confidence Program>>